How to file a surety bond
There is a wide variety of surety bonds and regulations, all of which are determined by the sector of the economy, the state, and the municipality in which the company is located. For instance, the procedure of getting a title bond in Texas needs more evidence to be evaluated before the bond can be acquired. This is in contrast to the situation in Georgia, where it is usually always possible to buy a title bond immediately. When we talk about different types of businesses, we may say that bonds for cleaning companies are provided immediately, but the price of bonds for freight brokers is determined via the process of underwriting. In addition, not all bonds are required for obtaining a license to operate a company. A probate bond, for instance, is often related to the process of proving the will of a dead person and the distribution of their assets after they have passed away.
In spite of the many different restrictions, the procedure for acquiring a surety bond is, for the most part, rather similar.
While the majority of surety bonds must be presented either in person or via the mail, many obligees do let principals to file their surety bonds through the use of electronic filing systems.
When your a has purchased their bond, the surety business will provide them a completed bond form, which they will then need to sign before submitting it. The bond form may need to be notarized in order to satisfy the requirements of some obligees. Thus, clients should wait to sign their bond until a notary is present.
Steps in getting a surety bond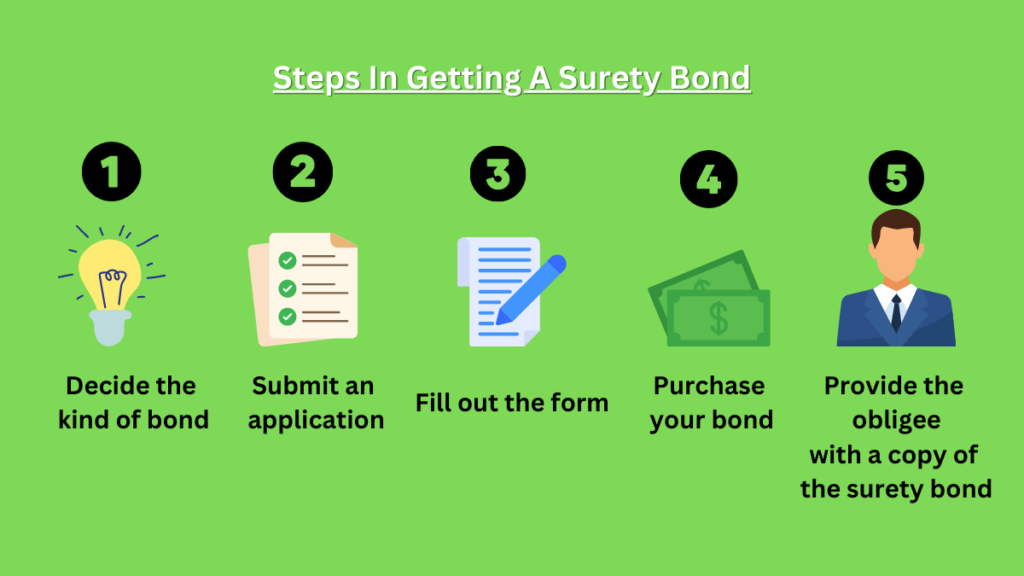 1. Decide the kind of bond and the quantity of the bond you require.
Because of the fact that each state has its own set of bonding regulations, the specifics of this information are dependent on the state in which you want to become bonded. Choose your state to get a list of the bonds that are most often encountered in your region. The percentage of the whole bond amount that your surety bond will cost you will normally fall anywhere between 1% and 5% of that total.
2. Collect the necessary information to submit an application for your surety bond.
Details, such as your company's name and address, license number (if you are renewing your bond), and information about ownership are common examples of necessary data.
3. Fill out the form to get a free quotation with no obligations attached.
When you decide to collaborate with surety professionals, you are also deciding to collaborate with our national network of insurance carriers, which will result in more competitive pricing for you.
4. You must first purchase and then get your bond.
Customers have the option of purchasing their bonds via a number of trustworthy online marketplace.
5. Provide the obligee with a copy of the surety bond.
Find out from the obligee, who is wanting you to obtain a bond, if they demand a raised or digital seal by getting in touch with them. Put your signature on the bond as the principal, and then hand it over to the obligee.
How can I choose which surety bond firm is the best one for me?
As a general rule of thumb, not all organizations that give surety bonds to customers provide the same quality of service or goods to those customers.
Several surety bonding firms, particularly the larger ones, do not work with customers who have a credit history that is in doubt. Instead, these organizations will only work with customers who have an excellent personal credit rating.
On the other hand, there are surety companies that provide programs that are intended to fulfill all of your bonding requirements and are available to you. Before submitting an application to any surety company, you should first choose a company that you feel at ease dealing with or one that you are certain will fulfill your requirements.
Frequently Asked Questions
How much does it cost to get a surety bond?
The amount of
money
you'll need to pay for a surety bond is directly proportional to the kind of bond that you need. Be conscious of the fact that certain bonds are quite affordable while others might be rather costly. Each surety bond has its own pricing structure. Yet, the cost of surety bonds ranges anywhere from 1% to 15% of the entire amount of the bond. Construction bonds often cost up to ten percent or more of the bond's face value since the construction industry is considered to be one of the riskiest industries.
When will my application for a surety bond be granted, and how long does that process take?
It is dependent on the kind of relationship being discussed. In certain instances, the procedure may be finished from start to finish in a matter of minutes. When dealing with more complex bonds, the procedure could take several days.
When applying for a surety bond, would I need to provide collateral?
Most of the time, collateral is not needed. It is dependent on the risks involved in the specific bond you are asking as well as the circumstances surrounding the bond.